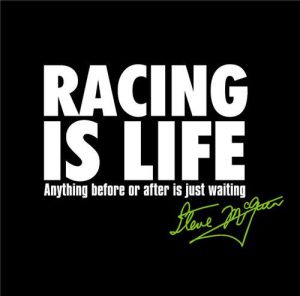 I have always been fascinated by slot car racing and decided some time ago, that now was the right moment to do something about it. I started surfing every corner of the internet for inspiration and got a lot – thanks to all of you for sharing your knowledge!
But first of all I want to thank my soulmate Helge, who has supported me from day one with advice and empathy. By the way, he has a digital 1:32 Carrera model of Autodromo Nazionale Monza on his first floor – poor soul! 🙂
After some time it was quite clear to me, that it was a homemade wooden routed track that I wanted and it should be a 2 lane digital operated one with a kind of racing line. Several experiments, with Scalextric digital plastic parts, have resulted in, making my own anti collision system, that makes it a lot more fun to be a slot car racer – skilled or not. I have incorporated that system into my wooden track, together with Scalextric Lane Change electronics and "alive" flippers. I want a simple track design without any landscape or scenery details – just pure racing!
The build is very low cost because everything is homemade, from routing the track to the Print Circuit Board's and everything in-between.

This site is my contribution to all the "How To" sites out there, from which I got inspiration for my project. I think, I'm almost obliged to share my development experiences' of my digital wooden track and I hope it will help others to avoid some mistakes during the way and perhaps contribute with inspiration for upcoming projects.
I have, on this site, done my very best to describe my thoughts and ideas about my digital wooden slot car track and the process itself.
If anyone has any questions about one of the subjects on this site, don't hesitate to contact me!
NOTE: In the text there will be lots of abbreviations in italic. You will find the explanation in the list to the right.
Finally, I ask for your indulgence for my way of dealing with the English language, I'm a Dane and therefore legally excused 🙂
Have a nice race out there!
Peter